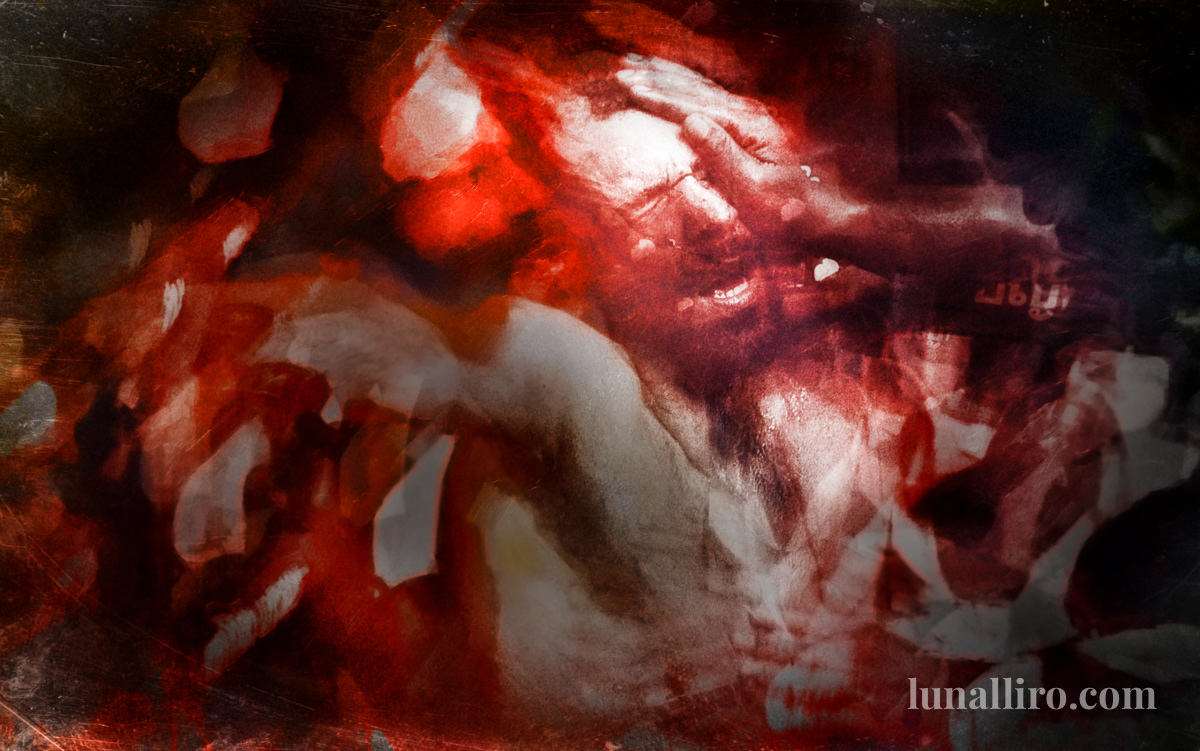 (or the Heisenberg Uncertainty Principle)
This series portrays local champions at decisive moments of their Life, in a globalized world that is vanishing tradition.
Through this unknown faces in the global world, deliberately separated from the background, the moment captured in these images takes the observer to different experiences based on their own perception; as well as in Life. The losers see fear of the fight and defeated fighters while the winners see concentration and learning.

If conscious reality is an emotional projection, emotions define reality. Thus the Art of perception is our most powerful tool:
Victory begins with the release of distraction.
Muay Thai as a metaphor for Life; ancestral traditions vanishing in a modern world where entertainment and cultural appropriation replace Human values and expel the legitimate owners of their land.
This ancient sport is forbidden in most of western countries as is too aggressive. Paradoxically the principles of this traditional; Art, Honor, Courage and Humility, are forbidden in the terror-based western Market.
In a period in which losing is the main perception and the message of resignation and impotence floods the media, I had the privilege of spending time photographing high performers and endurance Muay Thai boxers.
Taking a contemplative approach to Muay Thai, I capture the moments surrounded to the fight, following its traditions of honor, respect and discipline, through moments of introspection of the fighters between rounds and outside the ring, observing this reflective moments as stage for personal growth, as they face their own fears and the uncertainty of Life before taking decisive action and analyzing themselves after.
Far of judging violence itself, as feeling pain an anger is part of being alive, I am comparing the ancient healthy ways to transcend this emotions to gain self-control, to the western method of fear and repression.
With the world population is immersed in a financial, social and environmental crisis, the western media continues to promote a hasty-narcissistic lifestyle, overflowed with distractions, where the average Human being succumbs to control, having the illusion of being in charge, but unable to fight any real battle.
Art, sport, culture, a survival alternative for others, the fact is this controversial tradition has helped, healed and fed warriors and their families for centuries, developing values in lost souls and bonding local communities. This ancient tradition has existed as far as the memory goes, being carried by its legitimate representatives.
SOBRE EL MUAY THAI:

La distracción ausente
​
Muay Thai como metáfora de la vida; tradiciones ancestrales desvaneciendose en un mundo moderno donde el entretenimiento y la apropiación cultural, sustituyen a los valores Humanos y expulsan a los legitimos dueños de la tierra.
Este antiguo deporte está prohibido en la mayoría de países occidentales, ya que es demasiado agresivo. Paradojicamnete, también los principios de este Arte tradicional; Honor, Coraje y Humildad están prohibidos en el mundo occidental, ya que son contrarios a las necesidades del mercado.
En un periodo en el que perder es la percepción principal y el mensaje de resignación e impotencia inunda los medios, tuve el privilegio de pasar tiempo fotografiando atletas de alto rendimiento y resistencia.
Tomando un enfoque contemplativo del Muay Thai, capturo los momentos que rodean a la lucha, siguiendo su tradición de honor, respeto y disciplina, a través de los momentos de introspección de los luchadores entre asaltos y fuera del ring, observando estos momentos de reflexión como escenario para el crecimiento personal, ya que se enfrentan a sus propios miedos y a la incertidumbre de la vida, antes de tomar una acción decisiva y analizar sus acciones después.
Con la población, inmersa en una crisis financiera, social y ambiental, los medios de masas siguen promoviendo un estilo de vida superficial, narcisista y saturado de distracciones, donde el individuo sucumbe al control, en un proceso inconsciente que lo mantiene en la ilusión de tener poder, pero incapaz de lidiar cualquier batalla real.
Arte, deporte, cultura, supervivencia para otros, el hecho es que esta controvertida tradición ha ayudado, sanado y alimentado a guerreros y a sus familias durante siglos, transmitida de generaciónen generación desde que la memoria existe.
El observador decide (
o el Principio de incertidumbre de Heisenberg)
Esta colección recoge a campeones locales en momentos decisivos, en un mundo globalizado donde la tradición se desvanece.
Con rostros desconocidos en el mundo global, deliberadamente separados del fondo, el instante capturado en estas imágenes lleva la obsevador a diferentes experiencias en función de su propia percepción; así como en la vida. Los perdedores ven dolor y derrotas mientras los ganadores reconocen el camino a la Victoria.
Si la realidad consciente es una proyección emocional, la emociones definen la realidad. Así el arte de la percepción, es nuestra herramienta más poderosa:
La Victoria, empieza por la liberación de la distracción.